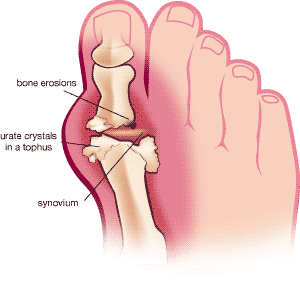 Gout is first suspected upon the appearance of a red, warm, and inflamed joint. These symptoms are most commonly noted in the great toe although it can affect any joint space.
Gout is extremely painful even with a light touch. When the large toe is affected, it is referred to as podagra.
For faster resolution of this problem, treatment is recommended although without this treatment the first attack will resolve without intervention within a week or two.
The symptoms will disappear only to reappear usually in the same joint. The pain felt with gout is typical of an arthritic discomfort. With each subsequent attack of gout, the time between each episode generally lessens and duration increases. Other joints are areas that can be targeted as well.
The gout itself is caused by the abnormal metabolizing of uric acid that results in a build up. Treatment that is more aggressive is available for gout by the use of medications that have been proven to be effective.
Gout has the capability, in severe cases or if left untreated, to damage the joint itself. In these instances, surgery may be indicated to repair any damage done to the joint and to remove any of the uric acid crystal deposits. This is necessary to prevent any further damage to the joint and/or the new repair of the joint if one is being done.
Various problems can develop in the foot due to persistent and/or recurrent gouty attacks. Some of these problems are changes in the joint and kidney stones. Gout may destroy the bone and cartilage of the joint, as well limited range of motion and deformities can take place. If the joint is totally destroyed you can become disabled because of it.
On first signs and symptoms of gout or suspected gout, you should see your primary care physician for diagnosis and possible forms of treatment. Most likely, your doctor will prescribe medication for your gouty condition and may or many not limit your activity temporarily. Early treatment and prevention of gout are very important. With early treatment and prevention your condition can be kept under better control to avoid any complications.
See your physician as soon as possible if any of the above signs or symptoms is noted. Gout is a painful condition that can usually be controlled and in doing so to prevent any complications that may arise from developing it.
Educate yourself on the signs, symptoms, preventions, and treatments on gout as you would any condition to better help yourself and in return to keep your gouty condition under control.
Natural Gout Pain Relief
New advanced gout treatment. Topical analgesic provides immediate relief.
This Organic Medicine:
* Treats and Heals Gout
* Provides Rapid Pain Relief
* Is a safe and All Natural Analgesic
* Delivers Deep Penetrating Action
* Both USDA Certified Organic and FDA Registered
Learn more about Gout Pain Management now.
Why do we promote this?